Avg.Air Consumption:
6cfm
Air belt sander
Features
:
1. The design is simple and light;
2. It is easy to change the belt, can operate by one hand.
3. Using air exhaust cooling system to extend belt working life.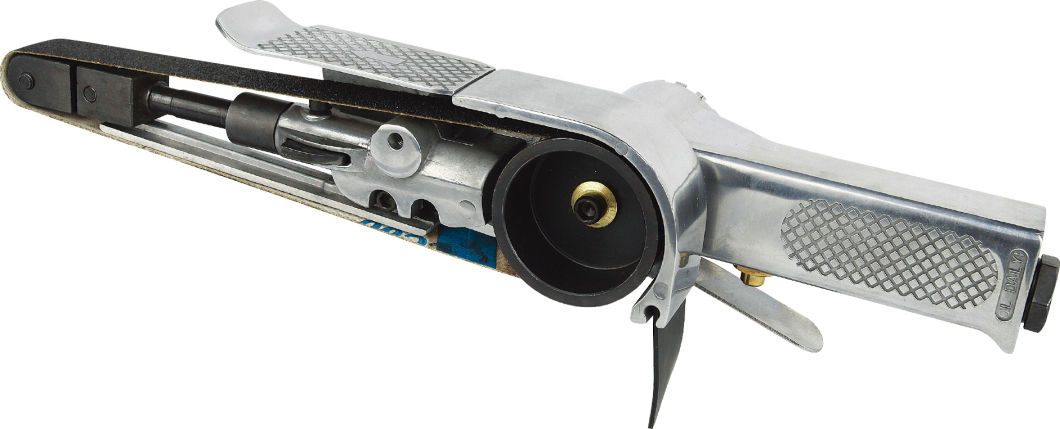 Uses
:
1. Welding parts grinding, burr removal, removal of coating chamfer operations, various uses of the grinding operation.
2. Applicable to metal processing, wood processing, surface treatment of the tire industry, ship industry, mold industry, shoes industry, manufacturing industry,etc. burr removal and all kinds of grinding.
3. Applicable to nonferrous metal  like steel, copper, aluminium, stainless steel,etc., and other material like wood, leather, fabric, glass, paint and rubber to grind, polish, concave process, burr removal and derust.
4. Can be used for metal products, plastics, stainless steel mirror processing, glass fiber, synthetic materials, rubber, glass, stone and welding point burr grinding, cutting and polishing to remove the corner edge, which have good effect.
| | | | | | |
| --- | --- | --- | --- | --- | --- |
| Free Speed | Belt Size | Air Inlet(PT) | Air Hose(ID) | Avg.Air Consumption | Working Pressure |
| 16000rpm | 20x520mm | 1/4" | 3/8" | 6cfm | 90psi |
Single  Size




(h*w*d[cm])

Single Weight




(kg)

Box Size




(h*w*d[cm])

G.W/N.W




(kg)

QTY/CTN

35*15*6.5

1.4

36.5*31*36

15/14

10
Air belt sander is widely applicable to various products made of metal, nonferrous metal and nonmetal surface grinding, and coarse grinding and polishing the surface, with efficient,safe (less dust, no poison, not like the grinding wheel could be crush and hurt someone) and economy. Especially suitable for mechanical manufacturing, hardware tools, die casting, daily hardware, instrumentation,etc. industries,to grind edge, burr and polish. This machine has a wide range of use value, which is recognized to be the ideal product as an alternative of ordinary bench grinder and polishing pad.
Ningbo Actmix Produce the organic blowing agent Actmix®ADC-50GE & Actmix®OBSH-50GE, which application for the manufacture of sponge and foam rubber articles based on natural and synthetic rubbers. The foaming temperature from 150℃ to 210℃.Lower mooney viscosity at lower temperature(50℃), with high dispersiblity,ensure the foaming rubber parts with uniform fine structure.
Ningbo Actmix produce the microsphere foaming agent Actmix®HDU/GE Actmix®LDU/GE, with stable perfoamance, non-flammable, non-pollutin, non-toxic and tasteles, do not corrode the mold, non-staining the rubber parts; which are widly application for the Sealing strip, sold and lightweight rubber products, etc.
Rubber Foaming Agent,EPDM Foaming Agent,Pre-dispersed Rubber Foaming Agent,Rubber Foaming Agent ADC-50
Ningbo Actmix Rubber Chemicals Co., Ltd. , https://www.actmixchemicals.com