Those engaged in the production and application of chemical fertilizers all know that among the several principles of scientific fertilization, one is the law of diminishing returns: under the premise that other technical conditions (such as irrigation, variety, farming, etc.) are relatively stable, with the gradual increase of fertilization amount, Crop yields also increase. When the amount of fertilizer exceeds a certain limit, the amount of fertilizer is increased, which in turn causes crop yield reduction. This is a law of economics and is widely used in various fields such as industry, agriculture, and animal husbandry. To put it simply, it is the peasants who invest a dollar of fertilizer, and the benefits must be greater than one dollar to be profitable.
At present, all kinds of new fertilizer products in the market have to be more expensive than traditional fertilizer products. This has inevitably increased the agricultural input of farmers, but has anyone calculated that the money invested by farmers is not these? New products can help them get more benefits?
For example, the application of chemical fertilizer products that have been stable for decades, some companies have been slightly adjusted to increase the substance by a few tenths, and the price of the product has increased by several hundred yuan. Is it true that the material of this fraction is really worth? How many dollars? Which economist and agronomist to help farmers calculate the critical point of declining rewards for purchasing new products? If the ratio of input to output of new products is unreasonable, it should not be promoted as a new product.
In addition, the development of fertilizer products has been very rich, but improving crop yields, improving fertilizer utilization, and reducing non-point source pollution are only a way out for researching new fertilizer products? The answer is no, the deep application of fertilizers promoted by the Ministry of Agriculture, layered fertilization, water and fertilizer integration are good solutions. We must not only pay attention to the innovation of fertilizer products, but also pay attention to the control of fertilization nodes and the rationalization of fertilization methods. Deep application of fertilizer and stratified fertilization can not only increase crop yield, but also have obvious effects in improving fertilizer utilization and increasing soil organic matter.
Scientific fertilization still has a long way to go in China. Scientific fertilization first needs to instill the concept of scientific fertilization into farming farmers. At present, this emphasis only on the innovation of chemical fertilizer products is misleading for scientific fertilization and misleading for enterprise development. It is an irresponsible attitude towards China's agricultural security.
Total 1
| <First
<Prev
1
Next>
Last> |
share to:
Nurses use the medical trolleys to transfer the pills and liquid medicine to patients, medical trolley caster wheels make the medical trolley moving. The medical caster wheels are widely used in many medical trolleys and other medical equipment. MYWIN could provide the plate & threaded mounting type for your choice. Including plate swivel, plate swivel with brake, threaded swivel, threaded swivel with brake.
The material of medical trolley caster we normally use is PU, transparent PU and so on. PU material has the characters like rotary quietness, anti-abrasion, corrosion resistance, which are very suitable for hospital environmental. One important thing need to remind you is that, please do not use the casters while exceed their maximum load capacity, accident is always caused by overload.
As the quality, our casters have the certification proof and have received testing after production. The regular salt and spray test and load capacity test are taken in our every caster. We also have the SGS, IAF, TUV and CNAS certification to make our customers more confident about our products.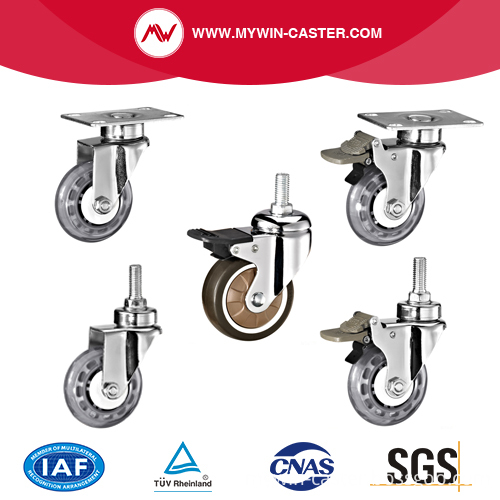 Medical Trolley Casters, PU Medical Caster, Light Duty Medical Caster, Braked Medical Caster
Ningbo Mywin Caster Co., Ltd. , http://www.mywin-caster.com